1. What raw materials do you print on?
We print on cotton, viscose, bamboo. As well as on other natural resources.
2. How can I contact you?
3. Do you stock your fabrics and knits?
We print on fabric as well as knitwear.
However, we only produce knitted fabrics.
4. What should a customer know when purchasing fabric/knitwear for digital printing?
The fabric or knit for printing should be raw. PFP (Prepared for Printing) media is also available on the market. For such media, we select those that are not finished in any way, such as softened, and do not have any finishing applied.
5. What is the minimum and maximum weight of the material you can print?
We can print material of any weight.
6. What is the maximum width of the print bar?
We can print on rollers up to 240 cm wide, however our knitted fabrics are 160 cm wide.
7. Do you print on pre-made pieces or blanks?
We do not print on blanks or pieces.
8. Do you print items or blanks filled with graphics directly on the roller?
We do not make such prints. However, it is possible to print rectangular panels filled with a pattern from which, for example, the fronts of blouses are cut. However, be sure to ask for the right amount of stock when preparing files for printing. This is especially true for the length of such a rectangle, as the material shrinks due to finishing processes. In case of any doubts concerning the preparation of files for printing, it is worth contacting our employees directly.
9. Do you print double-sided?
No, the fabric/knit can only be printed on one side.
10. Can a dyed material be printed?
We make prints on Off-White and bleached materials. It is not possible to print on other colours.
11. Do you provide cutting and sewing services?
No, we do not provide such services.
12. Can I get knitwear samples?
Yes, we send free knitwear samples. To receive samples, please contact the office or contact the salesperson directly.
13. Is it possible to do a test print?
Yes, it is possible. Sample print is made in length of 0.5 m or 1 m. Sample printing can be done before each production to check the patterns. The cost of the service is the same as for full printing (price per metre).
PREPARING THE FILE FOR PRINT
1. To whom and how should I send the print file?
Print files should be sent to the salesperson you are working with. Files can be sent in an email or e.g. via WeTransfer. Files should be named as in the order.
2. What parameters should the file have?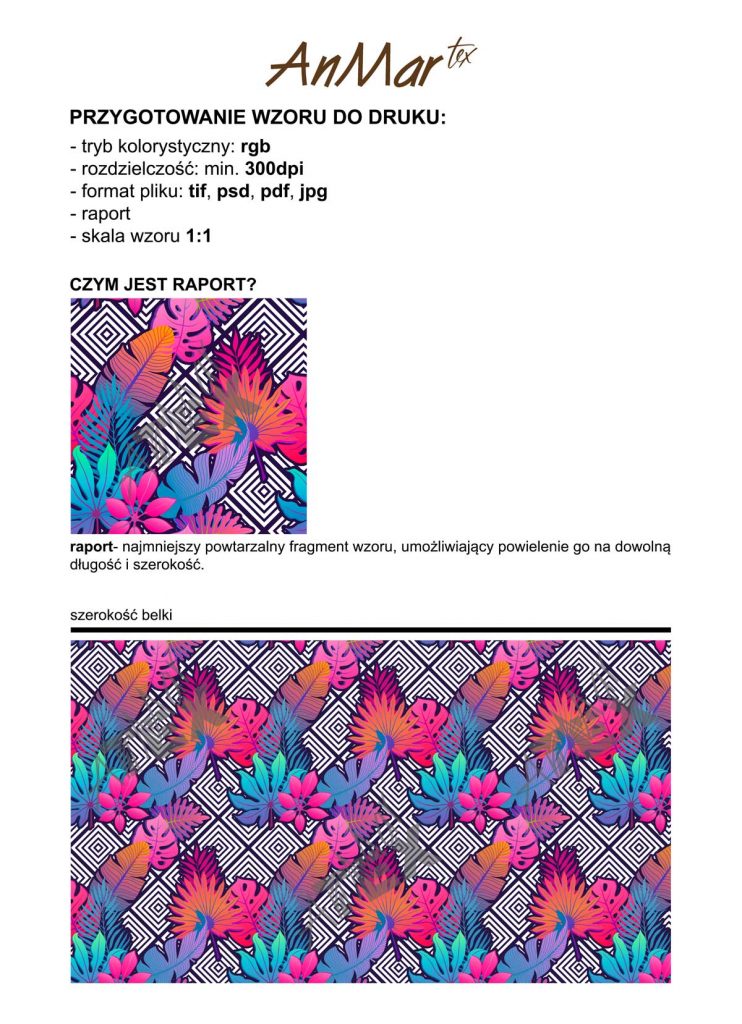 3. Do you have your own printable templates?
Yes, we are constantly updating the database with new designs. You can find access to the catalogue on our website in the pattern catalogues section.
4. Do you prepare files for printing?
Yes, we provide such a service. There is an additional charge.
5. Do you design patterns for special customer requests?
Yes, we provide such a service. There is an additional charge.
6. Can the colours on the printouts differ from those on the monitor?
Yes, the colours may differ from those seen on the monitor. This depends, for example, on the monitor calibration and the lighting. We recommend our customers to make a test print in order to assess the effects directly on the material.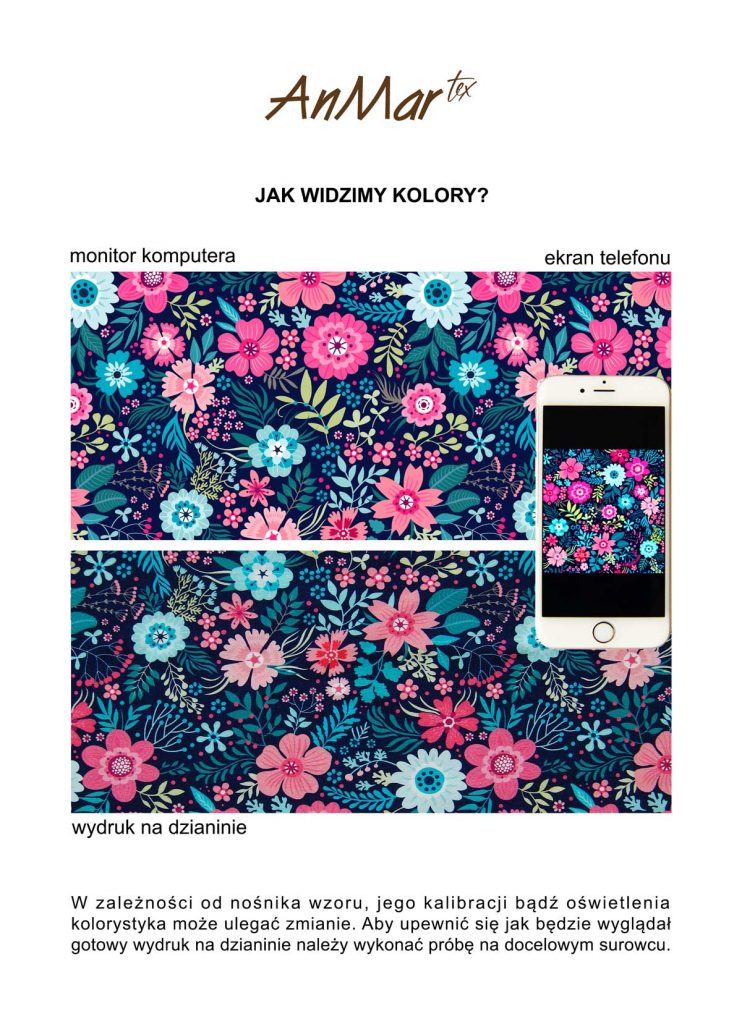 7. Do you work with the Pantone template?
We can choose a colour based on the Pantone Chart, but this is only an approximation.
8. What does it mean that the print reports/is seamless?
This means that a print file reproduced in any length and width contains no cuts or lines and the motifs contained therein form a coherent whole.
9. Will the size of the pattern after finishing be the same as in the prepared file?
No. The print may shrink after finishing, so it is important that the prepared design takes this possibility into account.
ORDERS, PRICES AND DEADLINES
1. Do you knit in stock or only to order?
We stock cotton and viscose knitted fabrics. Other types, including digital printing, are made to order.
2. What is the minimum for purchasing knitted fabrics from stock?
We sell the knitted fabrics in stock from 1 roll (weight approx. 13.5 kg).
3. What is the production minimum for knitted fabrics in your own colour?
Cotton knitted fabrics – approx. 60 kg;
Viscose, bamboo knitted fabrics – approx. 100 kg;
4. What is the minimum production order for digital printing?
The minimum production order is 1 roll with a weight of approx. 13.5 kg – this applies to production on our knitted fabrics. In the case of printing on entrusted materials, the minimum depends on the type of material – our sales staff will provide more information.
5. Can more than 1 design be printed on a roll?
Yes. In the basic price, we print up to 2 designs on the roll. Larger quantities are also possible for an additional charge – contact our sales staff for more information.
6. How can I check the status of my order?
You can determine the current status of your order by contacting our sales staff.
7. Do you deliver the finished goods to the customer?
Yes, it is possible to ship via courier.
8. Is an advance payment required before production?
Yes, new customers must pay 50% of the order value to get production started.
9. What is the waiting time for an order?
Digital printing – 2–3 weeks (time subject to change);
Dyeing the knitted fabric in your own colour – approx. 2 weeks (time subject to change)
Other productions made to order – time to be agreed with the salesperson.